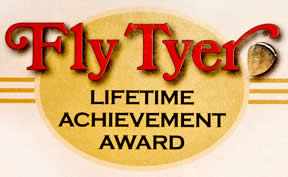 We were honored to receive the award.
================================

Double Magic Dubbing!
Supports the LaFontaine fly-tying technique!!!
NEW!!! BT's Dubbing Kit

This dubbing kit has 12 colors of dubbing each in its own package and in its own pocket inside of a heavy-duty, Cordura pouch hand made by Gretchen Beatty. There are 6 colors of Double Magic Dubbing and 6 colors of Soft Touch Dubbing. Those colors are DM =cream-2, olive-20, ginger-3, black-23, brown-15 & gray-22 while the colors in ST = peacock-26, purple-12, orange-8, red-7, brown-14 & olive-20. INCLUDED with the dubbing are BT's Tacky & BT's Super Tacky dubbing wax (1 tube of each) in a storeage tube for the wax OR for thread.
Price is $35.00 for the complete kit OR $17.00 for the Cordura pouch.
SH is usually about $3.75 in the continental USA.
E-mail or call 208-861-8802.

See the LaFontaine book below for tips on using this dubbing.

--------------------------------------------------------------------------------
Here is another heavy-duty Cordura pouch (black) made by Gretchen Beatty with 44 elastic loops to hold your personal tying tools. We include with the pouch 10 of our favorite tying tools. They include 2 flared standard bobbins, rotating hackle pliers, threader/half-hitch, hackle gage, brass hair stacker, gold-handle scissors, bodkin, rotating whip-finisher and a rotating dubbing loop tool.
Price is $40.00 for the pouch + 10 tools OR $20.00 for the Cordura pouch. SH is usually about $3.75 in the continental USA of the pouch only and a bit more full of tools.
E-mail or call 208-861-8802
If you want to fill the empty loops, check the tools section of our catalog to turn your tool kit into a DELUXE fly tying tool organizer.

-----------------------------------------------------------------
Al's favorite Hackle Wallet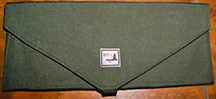 If you are like us, you've already found traveling with (or storing) beautiful Whiting saddles can be tough on the feathers. So Gretchen built us several heavy-duty, Cordura hackle wallets sized (6.25" X 16.5") long enough to protect those beautiful feathers. You can slip 3 or 4 packaged saddles (or capes) inside OR Al's has managed to get as many as 8 saddles/capes in his wallet when they are removed from the package before placing them inside.
Price is $15.00 for the wallet. SH is usually about $3.75 when shipped in the continental USA.
E-mail or call toll free 208-861-8802
==========================================

It's Not Fly Tying
But It IS SO Good!!!
When you follow the simple recipes and instructions in this professional level book you also can make never fail peanut brittle and several variations. Gretchen's candy making education got its start at the young age of six when she attended her first candy making school with her mother and aunt. The aunt (and her husband) then went on to operate a candy store in Anchorage, Alaska for many years named Alyeska Candy Kitchen. The recipes in this simple-to-follow e-book are the product of Gretchen's aunt's and mother's never-fail recipes and those Gretchen developed herself over the years. There is one recipe Al brought to the book called Al's EZY Bachelor Peanut Brittle that he used to make in a microwave oven before he met and married the girl with the professional candy making skills - Gretchen! He made it for the first time in 25 years to shoot the pictures in this book and the results were as good as they always were in years past. If you want to make perfect Peanut Brittle or any of its many variations AND learn the roll elevation plays in the equation, this is the e-book for you!
It's just $2.99 for a download from Amazon.com
Type "Gretchen Al Beatty books" in the search engine box.

Do you like candy? Toffee? Caramel? Almost every one does including the authors, Gretchen & Al Beatty. Many years ago, six-year-old Gretchen's first introduction to making candy was when she attended a professional candy making class with her mother and aunt. Soon her whole extended family became candy makers including an aunt and uncle who opened a full-time candy shop in Anchorage, Alaska called Alyeska Candy Kitchen. The author's series of candy making e-books are a reflection of her talent as a writer; subsequent years of observation, practice, and innovation; and Al's writing, photography and editing skills. 
It's just $2.99 for a download from Amazon.com
Type "Gretchen Al Beatty books" in the search engine box.
Danvises are now available through
Leroy Fly Tying Supply at www.leroyflytying.com or dleroy@leroyflytying.com

Learn to use the Danvise with this great Book by the Beattys.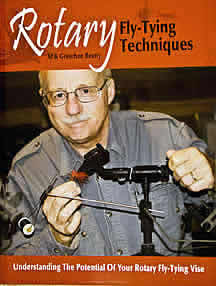 After using inline rotary vises for a number of years it finally became quite clear that almost all tiers who owned such a vise really didn't understand what this awesome tool could do. So we decided to do something about it. First there was the DVD, Rotary Tying TechniquesSeveral years later we finished the book, Rotary Fly-Tying Techniques.
ONLY $24.95 Get your signed copy today!!
SH is usally about $6.85 via Priority Mail Flat Rate Envelope.
E-mail or call 208-861-8802
=========================================
DANVISE EXTENSION ARM: The Danvise is a product our company used to distribute for a manufacturer located in Denmark. It is a reasonably priced, inline rotary vise. We've used it for years as part of our commercial tying business and it has served us well. We also are the ONLY source in the US for the Extension Arm that is also resonably priced. It's important to install the Extension Arm correctly. Click here for those instructions.
PARTS: Click here for a Danvise Parts List should you need to identify a replacement part with LeRoy Fly Tying & Supply.
REPLACEMENT JAWS: If you need a set as a replacement for a defect contact LeRoy Fly Tying Supply (the new Danvise Distributor for the USA & Canada) or e-mail them at dleroy@leroyflytying.com.
Adjustment of the jaws (and vise) is very important. YouTube videos below:
Vise and Jaw Adjustment: Here is a 12 minute video on adjusting the vise. The jaw adjustment sequence in near the ten minute mark.

FREE!! Self-Publishing TEMPLATES!!
BELOW!!
MS Word eBook Template
We offer our 36-chapter, template for you to use when you write your fly-tying or other illustration intensive e-book.
Beatty's 36-Chapter MS Word E-Book Template
MS Publisher Print On Demand Templates
Below are the two MS Publisher 2007 Templates you'll need to publish a print-on-demand paperback book on Kindle (Amazon.com). The cover tempalte is designed for up to a 125 page book - adjust the spine (wider or narrower) based on the size of your book. The 48-page book template's page count can be easily changed by either adding or subtracting pages as needed. We suggest adding them in units of 2 at the end of the book if your paperback will be more than 48 pages long. Deleting or adding pages will also increase or decrease the page count.
MS Publisher 48-page print-book Template