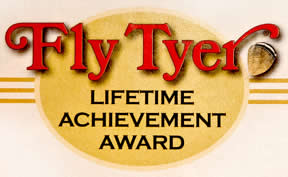 We were honored to receive the award. More information here:
We HAVE USED VISES IN STOCK! see below: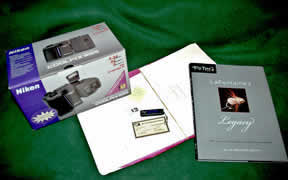 One-of-a-kind Sale
The 3 parts of LaFontaine's Legacy
There are 3 parts to a book. They are the rough draft, galley proofs and the final result. There is only ONE SET like this set in the world; listed for sale here are the three parts to LaFontaine's Legacy. In this sale we offer the original manuscript, original pictures (AND the working camera that shot them- Nikon 995!), galley proofs (including "sticky tabs" with editing notes), and the final version of the book. There is only ONE of these. The first $350.00 takes it or make an offer.
Call Toll Free 1-888-243-3597

Al's Drift Boat
For Sale!!!
This beautiful 16-foot wood drift boat is the one that Al's used for about 15 years to guide customers in Idaho, Montana and Colorado. It comes with a top-of-the-line Baker trailer which is constructed to easily load the boat alone, even in fairly fast current. It comes equipped with Sawyer Light oars, first aid kit, floatation devices, anchor-anchor system, Al's stream-side tying kit, etc. It is in excellent condition; we are asking $2,500.00. We'll meet you half way to deliver it within reasonable distance of Idaho and west of the Mississippi. E-mail us if interested. SEE the boat PICTURES here. It has not been used in the last ten years but has been under cover during that time. Contact us at 1-888-243-3597 OR albeatty2@aol.com.
Also available is a 14-foot aluminum motor boat with a trailer, 9.9 horse-power old Evenrude motor and two gas tanks. E-mail or call 1-888-243-3597 if interested and to arrange for pictures, $1,200.00.
Danvise Central
GREAT Danvise SALE!!! Used Danvises just $72.00. Plus SH
WE HAVE Vises in Stock NOW!!!
We are selling the vises we used for tying classes (or loaned to clubs for tying classes). They are gently used and in excellent shape; we make certain before shipping. This is a great opportunity to own a Danvise at a very reasonable price plus USA shipping via Priority Mail ($5.85). E-mail or call toll free (888-243-3597).

Danvise Product Review: We were really pleased with the review the good people did on the vise at flyguys.net. They are located in the interior of Canada's beautiful British Columbia where they are fortunate to be surrounded by hundreds of trout filled lakes, multi-species river systems, mountain fed creeks and the Pacific Ocean. They use our Danvise to tie many of the flies that are associated with their website. Check out the review here.
DANVISE and EXTENSION ARM: The Danvise is a product our company distributes for a manufacturer located in Denmark. It is a reasonably priced, inline rotary vise. We've used it for years as part of our commercial tying business and it has served us well. We also are the ONLY source in the US for the Extension Arm that is also resonably priced. It's important to install the Extension Arm correctly. Click here for those instructions.
PARTS: Click here for a Parts List should you need to identify a part.
Here is the first half of a video on how to set up the vise and here is the second half including the jaw adjustment near the end of the clip.
REPLACEMENT JAWS: We have replacement jaws in stock for $25.00 (we pay the SH). If you need a set to replace for a defect, email us or call us toll free (1-888-243-3597) for additional information.
JAWS: The jaw closing mechanism is much more powerful than most cam operated units on the market. Therefore Jaw Adjustment is VERY important. Click here for a video on proper Jaw Adjustment. NOTE: The jaw adjustment is near the end of the video clip.
REPLACEMENT JAWS: $25.00 (we pay the SH). If you need a set, email us or call us toll free (1-888-243-3597) for additional information.